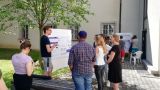 RIGeL Summer School Niederalteich - 23-24 June 2022
We were really excited and were really much looking forward to our second in person Summer School after two years of Covid pandemic time.
It was really nice to see people in person, have fun and scientific exchange during the two days of the RIGeL Summer School in the monastery of Niederalteich at the Danube, close to Deggendorf.
We started on Thursday, 23rd of June in the morning to Mariaposching where our canoeing tour began. The weather was awesome, not too hot, not too sunny but cloudy and nice for a trip on the Danube. Since we had one canoe less, two boats had to start with 4 instead of 3 persons. :-) But we made the challenge and each boat arrived safely in Deggendorf after 2.5 hours of paddling.
After check-in and a coffee break with pretzels the scientific program began with the first poster session. Since this time we had more poster presenters than talks, we had only two talk sessions with 6 talks each and 5 poster sessions with 4 posters each during the two days. Thanks to the exciting poster presentations and talks we got an insight into different scientific topics and research areas. Although, it was not always easy to follow the very different topics it was great to hear about research projects of PhD students from all RIGeL sections and we were also able to use the time for networking.
Also the get-together in the evening with some beer, games and conversations helped us to make valuable contacts and meet new people from other sections.
On the second day, the guest lecture of Ana Grujovic from the company Novocure provided us with valuable tips for a career after PhD and presented the difference between a career path in industry and in academia very clearly.
The method lecture of Cityva on the topic Biacore has enriched our program with useful practical information for our research projects.
The best poster and best talk as well as the best questionnaire prizes could not be missed in this Summer School either. The best poster prize have been awarded to Benedikt Mayer (Biophysics II) for his poster "From Structure to Function – characterizing ligand binding o a medically crucial membrane protein by cryoEM". The best talk prize has been awarded to Ameka Myrie (Zoology) for her talk "Social behavior of the Coffee Berry Borer". The best five questionnaire were Nils Schöfer, Eva Morgenstern, Michelle Geigenfeind, Elena Romero Fernandez and Alexander Schmalix. We congratulate them on their excellent contribution.
from left to roght: Elena Romero Fernandez, Eva Morgenstern, Alexander Schmalix, Michelle Geigenfeind, Nils Schöfer, Ameka Myrie, Benedikt Mayer, Daniela Tarau
After a full two-day program we returned to Regensburg on Friday evening tired but satisfied and enriched with a lot of new information.
We are already looking forward to the next Summer School.