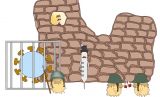 PhD students of the graduate schools RIGeL and RNA Biology explain how the new mRNA vaccination works
On initiative of the SFB960 as a RNA research focus at the University of Regensburg a video project has been started at the beginning of December 2020 with the aim of explaining the operating principle of the new mRNA based vaccine to a broad public.
PhD students of the graduate schools RIGeL and RNA Biology should create a short information video with simple explanations and illustrations.
A small group of PhD students joined forces and spent a number of weeks developing a concept for the video, writing a script, making voice-overs and drawings for the explanations.
The result is a video in two versions, one in English and one in German.
The basis of both adaptations is a fairytale which illustrates the difference in the operating principle of the classical vaccination and the new mRNA vaccination in a rather entertaining way. In a second step, the fairytale is linked to a (more) scientific explanation of the facts. In this way the complex mechanism of vaccination should be explained for laymen and take away their fear of the vaccination against the Coronavirus.
The video team has been supported technically and didactically by the ZHW (Zentrum für Hochschul- und Wissenschaftsdidaktik). We would like to thank the PhD students for their tireless commitment and the ZHW for the excellent support.
Under the following link you can find our videos: