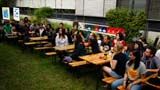 3rd RIGeL Day - Relaxed atmosphere, sunshine and barbecue
The 3rd RIGeL Day took place in a relaxed atmosphere on the 25th of June. About 150 people came to this year's summer event of the Graduate School. After a short official part with welcoming speech of the vice dean of the Faculty, Prof. Dr. Thomas Dresselhaus and a brief introduction into the PhD program of RIGeL by the Managing Director, Prof. Dr. Gernot Längst, the RIGeL Organizing Groups presented their activities and motivated new PhD students to participating.
Meanwhile the good scent of the barbecue reached the audience, so that straightly after the end of the presentations a long que formed in front of the grill. Thanks to the diligent help of the members of the student association (Fachschaft) behind the grill, who perfectly coped with the big rush, nobody was left hungry. Many PhD students, Faculty members, Alumni and friends of RIGeL let the day end with delicious food and drinks and with nice conversations.
We would like to thank all the helpers, especially the PhD representatives and the members of the student association (Fachschaft), who made this event possible!
We are looking forward to the 4th RIGeL Day next year!