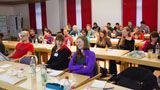 5th CBB Summer Academy, 1-3 September 2014, Kostenz
The 5th Summer Academy of the CBB section took place in the "Bayrischer Wald" in early September. Before we started with the scientific program we descended into an abandoned Silver Mine to face a couple of challenges. Those were put up of our trainers of the "Erlebnis Akademie" and could only be solved in the team.
| | |
| --- | --- |
| | |
| Foto: T. Hackenberg | |
Several hours later we climbed out of the wet and cold mountain a tiny bit more dirty than before but in high spirits nonetheless and continued our journey to the monastery "Barmherzige Brüder Kostenz".
Foto: T. Hackenberg
Here we got started on the scientific program with the first (of three) poster sessions. Afterwards we could enjoy a delicious dinner and use the opportunity to get to know others better over a relaxing get together in the evening.
The following day was filled with a solid program speaking of productive scientific discussions during the poster session and presentations of their ongoing work by PhD students.
Foto: Andreas Fuchs
The last session of the day was concluded by Cynthia Sharma an emerging group leader of the Center for Infection Research in Würzburg with her fascinating talk about regulatory RNAs in different pathogenic bacteria.
Foto: Andreas Fuchs
Another round of entertaining and scientific discussions continued in the evening over a cold beverage of choice.
Directly after another tasty breakfast we could enjoy an inspiring talk which was given by Björn Tews, a Junior Research Group leader of the German Cancer Research Center in Heidelberg. He provided insights in his research about pathogenically suppressor and oncogenes in human tumor of the central nervous system.
Foto: Andreas Fuchs
Following, we continued with talks and posters but before the retreat was concluded a couple of prizes were awarded to the most outstanding posters and talks.
In brief, it was a relaxed but effective Summer Academy with lots of options for networking and broadening the scientific horizon by getting to know PhD students of other departments better. After the final remarks we departed back to Regensburg were we arrived, against all odds (heavy traffic), within the scheduled time. Thanks to everyone for participating, see you next year!
Foto: Andreas Fuchs