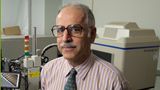 Structural biologist visiting Regensburg
Prof. Dr. Dinshaw Patel, a well-known structural biologist from the Memorial Sloan-Kettering Cancer Center in New York, will visit the University of Regensburg on September 13th and talk about "Structural Biology of RNA-mediated Gene Regulation and Methylation mark–mediated Epigenetic Regulation" (>> lecture announcement).
Patel's group investigates macromolecular-mediated recognition, regulation and catalysis. Their focus is on molecular processes that control gene expression, e.g. RNA silencing and epigenetic regulation.
The group contributed substantially to elucidate the mechanism of Argonaute-mediated site-specific cleavage of mRNA. This involved essential structural work on guide- and target-RNA-containing prokaryotic Argonaute proteins. Recently, also the X-ray structures of human Ago1 and Ago2 have been solved, providing important insights into the function of Argonaute proteins.