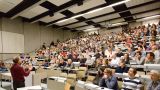 RNA Lecture Series starts with Part II on October 19
After Part I in the last summer term the RNA Lecture Series: Modern methods to analyze features of ribonucleo-protein particles goes into its third round with Part II in the winter semester 2016/2017. The first lecture takes place on October 19, 2016 with the talk of Dr. Jan Medenbach (Biochemistry I) on "Principles of Translational Control: Mechanisms and Factors".
There will be eight different talks during the semester including internal and external speakers.
Full participation in Part II can be counted with 0.5 CP as method course within the RIGeL Curriculum.